Welcome
Committee
General Information
Registration
Free Communications
Presentation PPT prep
Program at glance
Contact
Welcome
It is an honour and pleasure for me to welcome you to the 15th World Congress of Perinatal Medicine, which will be held on 24–26 June 2021.
The World Association of Perinatal Medicine have put together an outstanding scientific programme supported with eminent professionals in their specialist fields of perinatal, neonatal,   obstetrics, paediatrics, perinatal pathology, pediatric surgery, pediatric cardiology and genetics disciplines from all around the world.
With warm regards.
Cihat Şen
President of WAPM
Committee
Position in the Council
2019-2021
President
Cihat Sen
President-Elect
Marina Degtreyeva
President-Past
Milan Stanojevic
Vice President

Christoph Berg (Germany)

Ana Bianchi (Uruguay)

Giovanni Monni (Italy)

Secretary General
Rodrigo Ayala (Mexico)
Deputy Secretary-General

Aliyu Dayabu (Nigeria)

Ali Sungkar (Endonesia)

Tuangsit Wataganara (Thailand)

Treasurer
Suada Tinjic (Bosnia&Herzegovina)
Members

Karel Allegeart (Belgium)

Larisa Belotserkovtseva (Russia)

Gurur Biliciler Denktas (USA)

Amos Grunebaum (USA)

Nelly Jekova (Bulgaria)

Esin Koç (Turkey)

Denise Lapa (Brazil)

Qiu Yan Pei (China)

Valentina De Robertis (Italy)

Marcelo Silber (Brazil)

Jun Yoshimatsu (Japan)
| | |
| --- | --- |
| Life-Long WAPM President | Erich Saling |
| Chair, Educational Committee | Asım Kurjak |
| Chair, Ethics Committee | Frank Chervenak |
| Director, World School of Perinatal Medicine | Cihat Şen |
General Information
Venue:  ONLINE
(Next 6 months available for registered one)
Date   :  24-26 June 2021
Critical dates
1 May: Registration for the 2021 World Perinatal Congress opens

1 June: Abstract submission deadline

3 June: Notification of abstract acceptance 

5 June: Abstract presenter registration deadline

24 June

: Congress opening
Language:  English
Certificate of Participation:  Certificates of participation will be given in the final day of the Congress.
Recorded sessions after the congress will be available to the registered users for 6 months after.
Invitation Letter:  Invitation letters that are requested for submission to your institutions for your participation in the Congress will be forwarded by the Congress Secretariat
Registration
REGISTRATION FEE (inc Perinatal Medicine WEB Premium Membership): 
Registration Fee 200 USD + VAT
Early Registration Fee 150 USD + VAT (5 June)
Registrar 100 USD + VAT(5 June)
(Abstract Owners) 75 USD + VAT(5 June)
NO REFUND in any condition
Recorded sessions after the congress will be available to the registered users for 6 months after.
Registration will be opening soon. It will be similar to last year with discounts for early registration, trainees, sonographers, and middle income and low resource countries. Read below why you should not miss the next big OBGYN event in the calendar. 
Why attend the 2021 Perinatal Medicine Congress?
Reach and high-quality program: Listen to the leading expert on topics,  clinicians and researchers in the world 
On-demand: View recordings of talks for one month after the Congress, until Tuesday 12 October 2021, 23:59 GMT
CME/CPD: Earn CME credits by attending the live Congress event
Present your research/case: Present and publish your latest findings to the global community 
Flexibility

: You will be able to watch sessions live or on-demand at a time that suits you

Interaction: You will be able to ask questions, share your opinion, participate in polls, cast your vote 
Communication: Our perinatal world will allow you to catch up with friends and colleagues, schedule meetings with new contacts
Industry: Keep up-to-date with the latest industry developments  
Lower fees: Without travel or accommodation costs, we hope that more of our members will be able to attend
Free Communications
Poster or Video Presentation is accepted not just abstract
It shall be forwarded online on the website by using the system. Abstracts that are sent via e-mail or regular mail independently from the system shall not be taken into account. Please be advised to make sure that your abstracts are proofread and spell-checked as the abstracts sent via the system will be published verbatim if they are accepted. 
Rules
Submitted abstracts must not include already published data

It will be collected via the online system.

Academic titles will not be used in authors' names.

It should be written with headings such as Objective, Method, Results, Conclusion and Keywords.

The Abstract should not be longer than 500 words except for the Title and Author's Name and Surname.

Names and Addresses of the institutions where the authors work should definitely be mentioned.

For instance: Xxxx University Faculty of Medicine, Department of Xxxx, City

Should any abbreviation be used in the abstract, open version of the abbreviation should be given in brackets.

You will be notified as whether your abstract has been accepted by 

5 June 2021. 

If you should do a poster or video presentation please use system for your abstract and sending your poster (

only 1 Powerpoint slide

) / video file

only as Powerpoint slides

. If you should do video presentation, it should be prepared as a recorded powerpoint  presentation as a Powerpoint flie not more than 5 slides/

5minutes

as explained here and send your file using the abstract submission form button on the web.

All speakers participating in a CME activity are expected to disclose to the audience any financial interest or other relationship with the manufacturer(s) of any commercial product(s) and/or provider(s) of commercial services discussed in an educational presentation

All abstracts accepted for presentation will be published in a supplement to Perinatal Journal. By submitting your abstract you agree to transfer the copyright to Perinatal Journal for your abstract be accepted.

By submission fo your abstract/poster/video/slide presentations, you do accept that all or a portion of presentations, comments, documents and presentation slides/videos presented will be recorded and may be selected for a recorded and on demand web portal for members and other users.c
Presentation PPT prep
Saving your presentation with Powerpoint
1-To record the narrations in PowerPoint, start by locating the Slide Show tab on the PowerPoint ribbon. Click the Slideshow tab to change the available options.

2-Make sure you start with the first slide in PowerPoint to record audio, camera, and timings for the entire presentation. When you click Record Slide Show, a new window opens with two options before you start recording. Leave both options checked to record audio commentaries and synchronize slide switch timings. Make sure you are ready before starting recording.
3-When you click the Save option, the window below will open.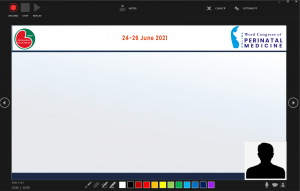 In the bottom right, check that your microphone and video are activated.
You can use the arrow keys on your keyboard to switch between slides while recording. Use the right arrow to jump to the next slide, or the left arrow to move to the previous PowerPoint slide.
4-When the recording is finished, you can calculate the total duration of your presentation by adding the times per slide. It is useful to know that audio and video recording is specific to each slide. When you delete your image on the slide, it will be deleted along with the voice recording. You can re-record specific to this slide. If you delete the slide, the audio-video recording specific to that slide will also be deleted. If the given presentation time exceeds, you can re-record for each slide or delete extra slides.
Your presentation will be stopped at the given time during the congress. For this reason, it is beneficial for you to pay attention to the time limit.
You need to send your presentation as recorded powerpoint file (not in video format) from abstract submission form on the congress web.
Program at glance
Contact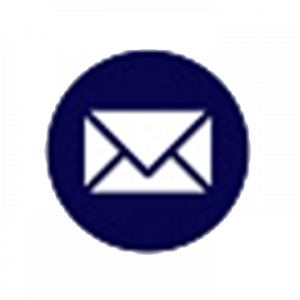 [email protected]